A series of debates on human rights in Africa
Part 1: "Improving access to child friendly justice systems in Africa"
Dr. Joan Nyanyuki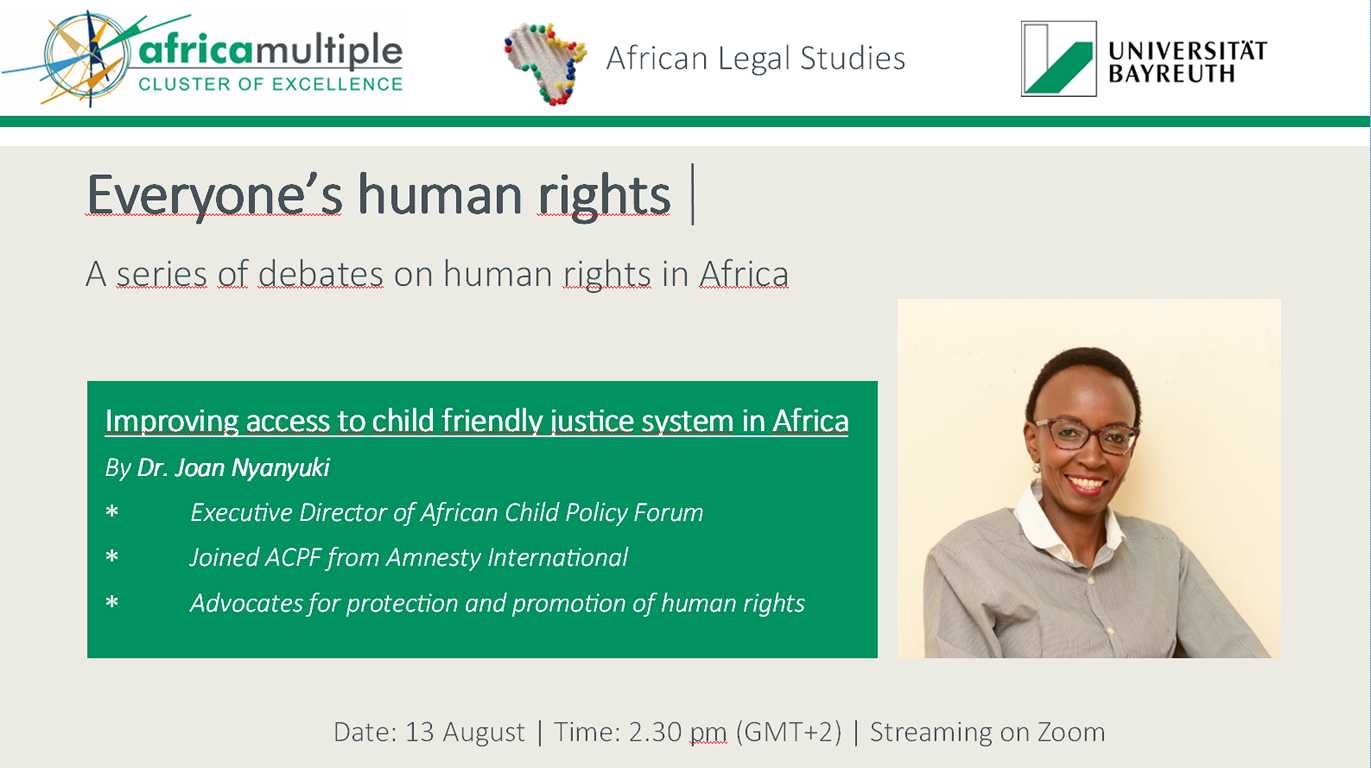 On Thursday, the 13th August 2020 we started with the first debate of our series "Everyone's human rights – A series of debates on human rights in Africa". The special guest was Dr. Joan Nyanyuki, Executive Director of African Child Policy Forum and advocate for protection and promotion of human rights. Originally, she began her career as a medical doctor, providing clinical care to patients in the public and private health sectors in Kenya and working with survivors of torture and sexual violence.
After a short welcome and opening of Prof. Thoko Kaime, and an introduction of Dr. Joan Nyanyuki, she talked about "Improving access to child friendly justice systems in Africa".
Her very interesting and instructive presentation highlighted some of the challenges children in Africa are currently faced with.
The African Child Policy Forum is already in existence for 18 years and tries to support children that are involved in civil, criminal, administrative or customary law procedures.
During her speech, Dr. Joan Nyanyuki underlined that many national legislations do not adequately support children during such matters. She therefore showcased approaches on how to improve access to child friendly justice.
Children statutes have already been established in 35 African countries. However, the harmonisation of laws that affect children as well as laws and policies that provide a framework for implementation are still needed. More precisely, child friendliness must be finally applied in civil justice, administrative procedures, customary and traditional courts or other informal alternatives. This will narrow the existing gap between the legal framework and the practice. In general, child friendly justice has the potential to influence the future course of children's lives not only in Africa.
The possible actions towards a more child friendly justice system are numerous according to Dr. Nyanyuki. Some include establishing safeguards during trial for children while others focus on reintegration efforts. This could potentially be achieved by raising the minimum age of criminal responsibility, which still is at below 14 years in 38 countries in Africa. Additionally, Dr. Nyanyuki stressed that a stronger focus on laws relating to child offenders and all children in need of care and protection is necessary. This would then have to be accompanied by an increased focus on child victims and witnesses as well as an overarching system securing accountability at all levels. With these and other measures, the law would be more adequately able to give effect to human rights norms and standards. At the same time however, prevention plans are needed in order to reach all children through holistic child protection and social systems.
After that first instructive presentation, a fruitful debate between Dr. Nyanyuki and the participants about child friendly justice systems in Africa enfolded. The in-depth questions covered a wide-ranging field of topics and once again showed the various challenges as well as possible actions to promote child friendly justice systems.
In conclusion, it was a wonderful opportunity getting to know such a personality and hearing her long-lasting experience.
If you could not join the first debate yet, you are very welcome to watch the recorded video here.
We cannot wait for our next debate on Wednesday, 2 September at 6.30 pm (German time) about "The principle of human dignity in constitutional adjudication in Malawian Courts" with our guest Justice Professor Redson Kapindu, Judge of the High Court of the Republic of Malawi and Professor of Law at the University of Johannesburg
Report by Ligia Link and Max Zuber
---
Part 2 "The principle of human dignity in constitutional adjudication in Malawian courts"
Justice Professor Redson Kapindu
Part 3 "They are frightening, but I can sleep at night! On violence, Human rights and Security in the Postcolonial State"
Dr. Melina Kalfelis